Personally, I really don't like having bits and pieces of paper lying around (even if they're organized by color in a binder) especially if most of them have been around since 2003. I thought I'm going to use them all up before I buy anything new. I think I'm making a headway in terms of clearing my scraps out. Although, this year, it became sort of necessary to buy new papers for new orders as it should be.

Anyway, here are some of the things I did with the scraps.

This is a modified file folder mini-album. Actually, this was inspired a bit by this YouTube video of Marion Smith. I don't have those envelopes from junk mails nor do I want to use new ones but what I had were big scraps that I could cut down using a file folder template I did. Some of the scraps were double-sided patterned cardstock. Some, I glued lining inside. Some of the ribbons were scraps and the tags inside were made from a kraft folder left over by my niece from her project.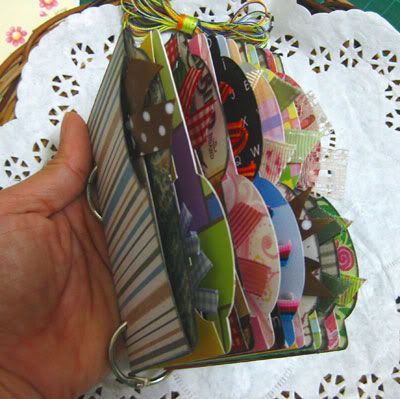 This next one is a tag album. The tags themselves are leftovers from my husband's bristol board scraps. He has a lot when he cuts down large boards for use as 11" x 17" drawing pages. I just glued similar-colored patterned papers on both sides of each tag and draw stitching lines to sort of 'unite' each pattern. I have yet to to put pictures on the albums. And I still have two coptic-bound mini-albums to complete. *Sigh*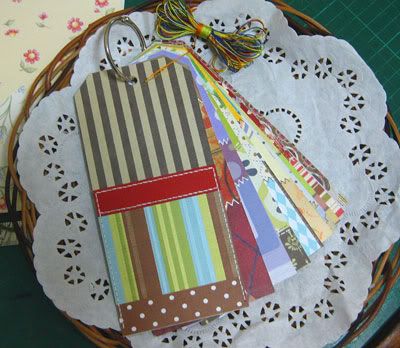 Some were used for bookmarks and artist trading cards I have no one to swap with as I don't belong to any group. Although, I could swap again with the awesome Chris Palmer.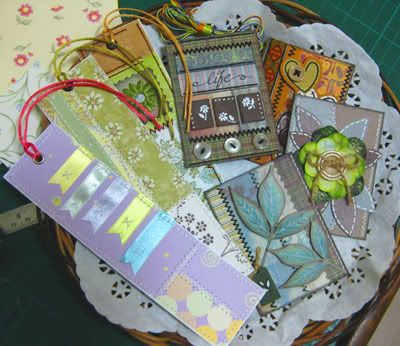 And I have punched quite a lot of little circles and squares and did a lot of bristol board buttons which I like more than chipboard ones since it has a white core. My nieces had already used some of those scraps. And I still have a lot of them remaining!! What else could I do with them? Serenity squares? Heh. Because honestly, I want to replace my stash already. I don't want to be saddled with stuff anymore than I can use.